FANDOM FASHIONS: Spider-Man Into The Spider-Verse
Spider-Verse Fandom Fashions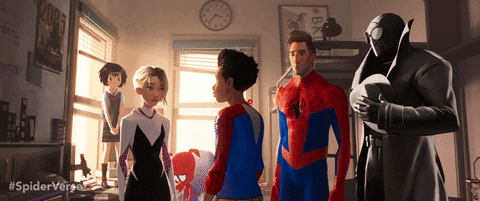 Spider-Verse finally happened and what a December gift it has been! Miles Morales is finally in animated action on the big screen along with a multitude of fellow Spider-people plucked from the comics themselves. Non-spoiler feels about this film are definitely coated with feelings of nostalgia, heartwarming relationship building and hilarious Marvel inside joke ribbing.
This film is so good!
Easter eggs for days in this film and what a joy to try and spot them all. I still can't get over how rich the character development is for this animated film. Please say there's going to be a sequel. Naturally, to get into the swing of all things Spider-Man (See what I did there?) check out these fandom fashions inspired by some of my favorite wall crawlers.
How many times are you going to watch Miles and the Spider -crew save the worlds? How do I get a standalone series just on Noir Spider-Man voiced by Nicholas Cage? Got a character or fandom you'd like to see a set for? Let me know in the comments section below!
Catch more fandom fashions and other geek fashion related articles HERE. Check out even more fandom inspired fashions at curvygeekyfangirl.com