BitCoin Tutorial: How To Get Ahead of the Game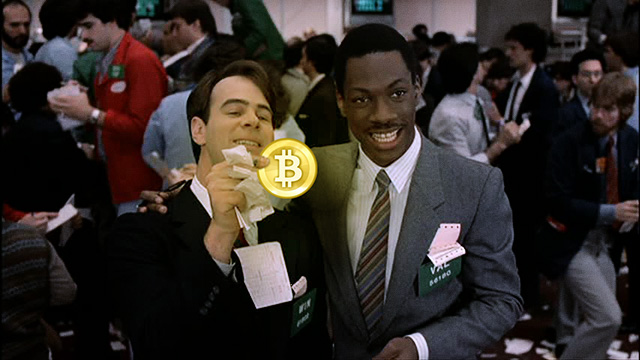 Welcome, FanBros. My name is Mellow and I'm the resident data geek on the spaceship. I work in metadata, stocks, prediction analysis and overall science for what we all know is the main goal: finding money.
While Bitcoins and Blockchains have been blowing up, the explanation of what they are, how to use them, where to use them and what to do with them has been a mysterious issue for the average consumer. Because nobody wants to lose their money by converting to moon dollars. So, here in the lab, we've compiled data to create our interviewer in this conversation: Average Consumer.
How are you doing, A.C.?
I like sports, Apple products and reboots.
Of course, you do! So, let's get started, shall we? First question..
So, what exactly IS Bitcoin?
BitCoin is a digital, encrypted currency that focuses on three things:
Decentralization: Transactions have a level of security that is encrypted and difficult to track back to the source. As time has passed, this isn't as much of a case as it once was.
No Bank: By use of the automation of blockchains, it doesn't require one. And with no bank, there are no credit card fees.
No international exchange fees: When leaving the country, you can just exchange your funds through cryptocurrency while you're on the move. And if you're making imported purchases, there are no additional fees.
That's pretty cool, actually. But, wait…
Yes?
Let's go back to #2… What's a blockchain?
Well, blockchains are the heart and soul of BitCoin, AltCoins and all types of cryptocurrency. It is easily more important than everything else involved in cryptocurrency. The classic definition you'll find online is:
"A blockchain is a public ledger of all Bitcoin transactions that have ever been executed. It is constantly growing as 'completed' blocks are added to it with a new set of recordings. The blocks are added to the blockchain in a linear, chronological order."
Yeah… Break it down for me, Mellow.
With pleasure: So, imagine there's this block.
Every time you use a bitcoin to buy or sell something, that transaction info goes into this little block. It has time stamps, encrypted reference numbers and the info necessary to verify that the transaction was made. These blocks form together and create blockchains, which are just a collection of these blocks. Because every block can get full and so a new one needs to be created.
Well, if there's no bank, who's making these blocks?
Miners.
You mean like:
No. More like:
A bitcoin miner. These individuals are anyone who want to invest in using a powerful CPU/GPU to hash a new block. By creating these blocks, miners are paid new bitcoins by the end of it's first transaction for the use of it's block.
Wait! So, ANYBODY can mine?!?!
Yeah. Basically.
For just investing a strong computer?
I mean, sure. Yeah.
THEN WHY AREN'T WE JUST DOING THAT?!?!
Slow down. Mining is not as easy as it sounds anymore. The more a coin is used, the harder it becomes to mine. Obviously with BitCoin (the most well-known and used), a powerful consumer GPU (like a 970 or 1080) just doesn't cut it like it did two years ago. Your electrical bill and number hashes/blocks you create will not pay for itself. Profits would be too low. But, if that's what you want to focus on, there are devices you can pursue on your quest or you can even join a mining pool.
There are also younger (and riskier) AltCoins you can mine with your lower GPU because the traffic hasn't hit those monumental BitCoin levels, yet. And I'm never going to discourage someone from mining. Man, do we need those folks.
Well, what's a mining pool?
Those are services that have built huge server farms that you can rent space in to help keep them funded and producing blocks. In return, you will gain a return on investment with them in a contract that you've agreed upon. Here's a list of the best trending ones and how they're doing, right now: https://bitcoinchain.com/pools
Okay. So, let's take a step back and talk about this "Decentralization" thing. So, if it can't be tracked, I was wondering how can I…
Is it legal?
Exactly.
We will always give the same answer: "Yes, depending on what you're doing with it." Much like any money.
It has been known for being the primary source of currency for hackers, the black market, deep web criminals, etc. It gained a bad rep because of this. But, that is not its primary use. And, like any good technology ever, it will be abused. But, that is not why it was made.
I understand. But, who's fighting that? Who's regulating this?
Each country regulates it differently. For example: the UK eliminated taxes on its use and set the guidelines for it. But, we haven't been as lucky here in the U.S., and we have a New York-based regulator, BitLicense, that was commissioned by the IRS. They are asking for each AltCoin to go through their approval process.
Will this stop you from working with those coins as they wait?
Not at all.
That…whole process seems kinda flimsy on the U.S.'s behalf.
Right?
So, how are you handling the tax situation?
Well… I'm just going to say take a look in here and handle the situation how you see fit. We can discuss my strategy offline.
Word. So, if we go back to the shifty people who kinda flocked to do this during it's foundation…. is this really safe?
Trust me. It is.
How so?
Well, there are Coin Wallets and encryptions.
You see, your individual bitcoin, once purchased and in your possession will come in the form of a "digital key".
This is yours and only yours. You need to keep this information safe, so you put it in a Coin Wallet. These will keep all of your encryption keys for the amount you need. You just have to get a wallet that holds the currency of whatever BitCoin or AltCoin you want to use.
AltCoin?
We'll get to that in a minute.
But, when you purchase or sell any type of coin, you must have a wallet. I have a list here of the best ones, but I have to say that my favorite in that group is Armory.
Well, everything listed above is pretty nice. But, what other uses can I get out of it?
Transactions are going to be a lot easier and save you a lot more. That's for sure.
For example, there are multiple accounts of saving anywhere between 25 – 38% on transactions from Amazon.com. CoinDesk has a really awesome article on that.
So, how do I purchase Bitcoin?
You can buy coin at a BTC-E(Bitcoin Exchange).There are several sites where this is possible.
These are a few of my favorites:
1. Coinbase: I dig Coinbase because it's safe. As someone who has more than a little cyber security, you know that the best judge of safety for any transaction system is simply time. And Coinbase has been around for a minute. Here, you can either request how much you would like to spend or how many BitCoins you would like to obtain. After you purchase, your transaction goes into "pending" for about an hour. Don't Panic. Many first-timers do, myself included. They are verifying the amount and that the encryption that you're given works. Afterwards, your coins will be placed into a new bitcoin wallet that you'll be able to use.
2. CEX.io: This site is focused on keeping you safe. So, I vote it as the best. It teaches you several methods to keep you secure and goes through multiple routes of explaining security to you. While not being around as long as Coinbase, its security measures are more precise.
3. BitQuick: I'll be honest: My love for this site stems from it being more of a "first love." When I first entered the scene a little over a year ago, this site's process made it easy for me. But, I also had one of the banks/Credit Unions the site uses for quick and easy transactions. The pending time is a bit longer, but I have yet to see a failure.
Wait… Well, how do I convert it BACK into USD? I got bills…
I got you covered already. These sites above can help you withdraw from your wallet, quickly. But, this is where BitQuick is honestly the slowest if you don't already have a bank it's related to. But, the other two have very easy processes you walk through that are just as simple as purchasing.
Smooth. But, once I get it, how do I make it expand? How do I make a profit?
Well, once you buy some BitCoin, you are already in the game. If you have any knowledge of stocks, consider these to be your shares. As the markets grow, your money grows and vice-versa for when it depreciates.
So there's a risk?
Of course. There's a risk with any stock value due to the nature of the market and current events (China economy collapse, Brexit, cryptocurrency science in Canada and Switzerland, etc.). But, also like in stocks, you have to be ready. When you think the market has peaked enough for you: withdraw. You make new strategies and jump back in when you're ready.
Well, what if Bitcoin isn't doing so hot and I still want to make a little money on the side…?
So, you mean Day Trading Altcoins?
What's "Day Trading"?
Well, it's like I said before: You need to look into how it works on the stock market first before deciding to do it with coin, but I can explain to you how it works:
Day Trading is the act of buying and selling stocks in one day, based on the idea of being able to make a profit off a certain stock (or coin for this exact situation) having an opportunity to rise in the near future. This is the big league game. It requires practice of watching charts, analysis, linear regression and keeping up with current events. It even has its own community on Twitter of cryptocurrency investors and brokers. We trade info, secrets and strategies to get ahead in this new market.
My two most highly recommended sites for this are Poloniex (pictured below) for it's chat room system and Bleutrade.
So, what are you guys trading? These "Altcoins"? What are those??
I'm sure by now you have seen that there are far more coins in the world than BitCoin. There's LiteCoin, DogeCoin, RedCoin, FalconCoin, SETLCoin, etc. They are all on the market and also rise and fall in value like any other stock. Every day, we get closer to seeing more and more releases of AltCoins and there are currently hundreds.
Well, what differentiates them from each other?
Well, most of them burn bright and fade out quickly. I've taken advantage of this knowledge for quite some time by focusing on the new ones gaining money and then trading before their profits plummet. But, every now and then, you will find a coin that is trying something different from what BitCoin has to offer by adding new features or business strategies:
MasterCoin focuses on the security of its users by using the power of blockchains for further encryption. DarkCoin and MAIDsafe are focused primarily on the decentralization of transactions. GameCredits wants to provide currency within gaming that can turn into actual money once cashed out(!!!). Ripple has recently been government approved by New York for a BitLicense to lower capital loss during inter-currency payments. NewEconomyMovement (which is currently blowing up at the time of writing this) has excellent off-line wallet features.
And then there's the big, new, ever-important, begrudgingly popular Etherum which we will save for another day.
These are the "stocks" of the industry. Before jumping in, study the market, learn how to strategically purchase and jump on an opportunity and when to exit.
Well, what led you to using cryptocurrency? Day trade or long-term?
Neither. I want to help people.
Just as much as people assume this is a weapon to steal and hurt others with, it is an amazing tool to solve economic issues in a global climate that has been awful for the past couple years. There are agencies that use blockchains to give Syrian refugees both identity and economic means to migrate into societies without immediately damaging their new hosts' structure. There are those in Brexit that will want to move on, as the economies of both Britain and the EU will take a major blow. The use of cryptocurrencies will provide a safe haven for their banking systems as they decide where they want to make the next move.
With the the UK having a zero tax foundation for their regulations, this opens the doors for them to create a better structured sub-economy for those on welfare. It could limit the investment of their own coin, but could disperse it to the poor to give them the opportunity to still eat and work, while never taxing the rest of its citizens. It would open the door and opportunity for people to get back on their feet to transfer their money into traditional currency again. If this succeeded in one place, who knows what the results would be overall for the rest of the world in that future.
Indentured minorities, societies and the overall downtrodden can benefit from this. We could fix issues that start with Wall Street by making them even more irrelevant!
But, that's just me being hopeful. Let me take my foot off this soap box before I get carried away…
Word. So, what would be my first step?
Study the linked sites. Make a plan. Go for it. And while you're at it, look into Sidechains, Etherum and how we can make our own money. Hopefully, we can dig further into that next time, A.C.
Thanks for joining us for this very special article of FanBros. If you like this article and would like to know more, be sure to follow us at @FanBrosShow and feel free to contact the author at @MellowMarketer. We'd love to hear opinions, questions and overall feedback.