Charlie's Angels 2019: Classic Corniness and Camp for the New Generation (REVIEW)
While the 2019 Charlie's Angels knows the DNA of the brand and offers a couple of compelling twists, it oftentimes doesn't go through the more compelling story-doors it opens. While the film does offer some fun and laughs, it often falls back on a sickly sweet dosing of girl-power that feels way too forced. Still, it's a watchable, silly time that general audiences will probably be cool with–but it's not winning any major awards. I don't even know if anyone will really pay attention to it.
I initially had no interest in this film or anything Charlie's Angels related. My first go round with the property was back during the early 2000s with Lucy Liu, Cameron Diaz, and Drew Barrymore. I was too young to understand then, but in hindsight it was a film that knew very well that it was absolutely ridiculous in approach and tone and knew it was a campy hot mess if a popcorn film. And it helped that it came out during a time where everything was about Y2K, candy colored iMacs, and general public tackiness. So it all worked out and made a boatload of money–classic camp.
Charlie's Angels 2019, stars a (at times) surprisingly funny Kristen Stewart,  "I am in danger and screaming about it 90% of the movie" Naomi Scott (Aladdin), and Ella "Unemotional Badass" Balinksa (The Athena). We unfortunately aren't offered much in the way of anything truly groundbreaking except the fact that all fights with the women were always against guys and everyone was getting punched in the face. One could argue the point of why a film like Charlie's Angels even needs to be groundbreaking–but then why bother rebooting it except to keep your own nostalgia alive? That said, this version, written and directed by Elizabeth Banks borrows heavily from an almost 20 year old movie, throws in some updates, some "ok boomer" winks and the like; but it ends up being…just okay.
The action doesn't really serve a larger purpose except to show that it could be done and I was fine with that. All the confrontations were direct and brutal, reminding me of typical animated Wonder Woman fights, so I was with the nonsensical carnage. Stewart, Scott and Balinska looked great in generally everything they did–but they also looked like carbon copies of each other, particularly in promos. The slight differences in their skin tone and hair styles were the only thing that set them apart. I thought considering, the assumed, progressive slant, that we'd see variety in the leads. The movie does address this and tries to fix it at the very end, basically creating an after-school special that "anyone can be an angel". I guess girl.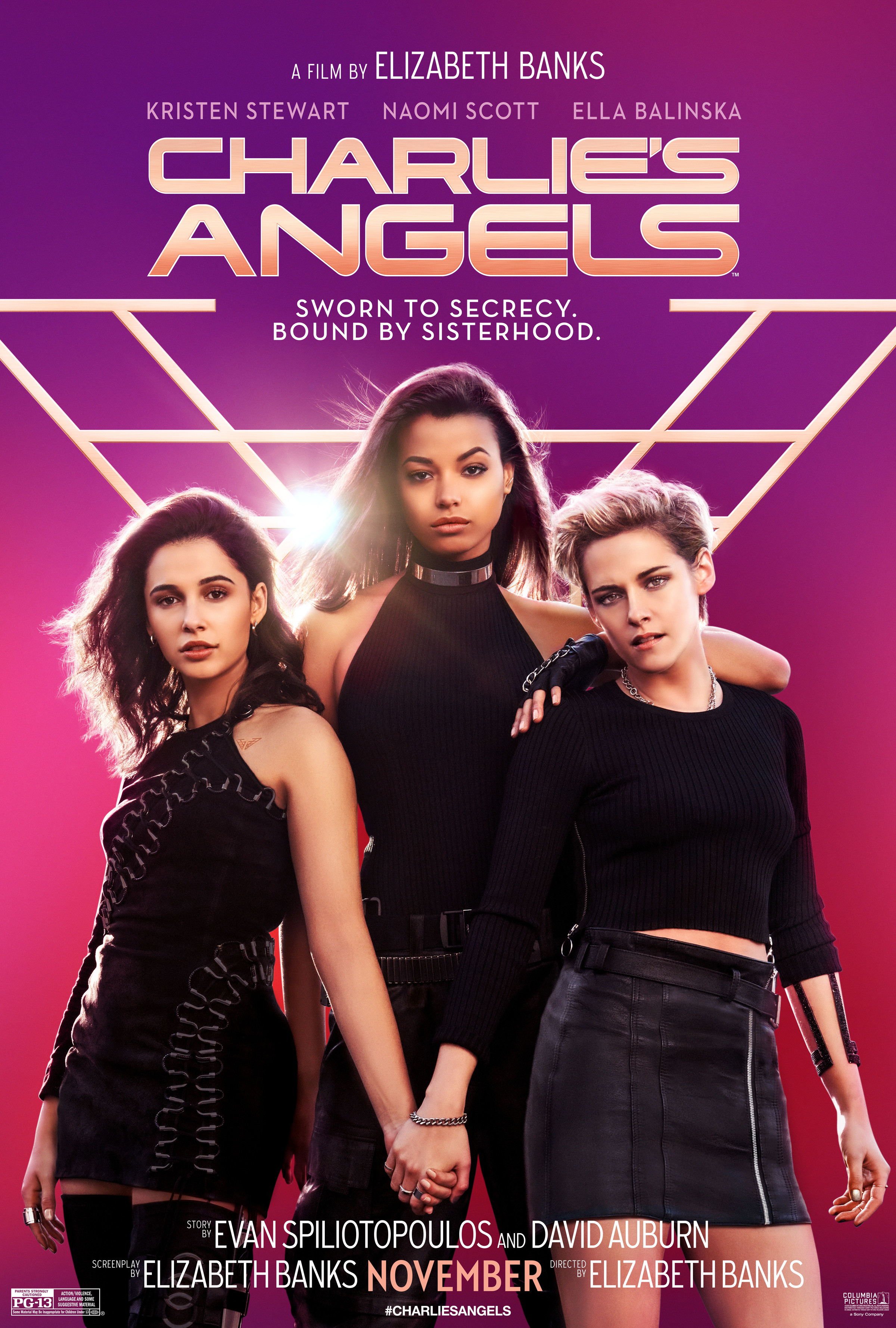 The story of Charlie's Angels 2019 is pretty weak but there were still enjoyable moments scattered throughout. Sir Patrick Stewart and Djimon Hounsou's inclusion was welcomed but almost a throwaway, except to give some viewers some recognizable faces.  Jonathan Tucker's character was one Crispin-Glover-from-Charlie's-Angel-2.0. The audience I sat with generally had a blast and there were enough silly quips to keep me in the seat. Overall, Banks was attempting to cross generational gaps with this project and the results are middling. So if you go in there not expecting anything serious, and just go to be silly and to pass the time, then you'll be fine.
Charlie's Angels releases in the U.S. on Friday, November 15. Read more reviews, right here on ForAllNerds.com!