The Boondocks Season 4 Episode 7: recap
After the last episode, The Boondocks could have gone anywhere, like up. Sad to say they didn't. Now, I know this season Grandad has signed the family into slavery but besides that being a very uncomfortable storyline, this episode took it too far. The Freemans aren't just slaves on paper, this week they're living it. The Boondocks introduces us to Freedomland, a slavery-themed amusement park. But before I go any further, let's get into the recap!
The Freemans are slowly turning into couch potatoes, eating junk food and watching Basketball Wives. Huey is preaching to them about playing outside and eating healthy when Uncle Ruckus comes by. He says that Eddie Wuncler Jr. wants to see Grandad. Grandad refuses and kicks Ruckus out, only to be brought to Wuncler's house by the police. So much for la resistance. Wuncler has set them up with a job at his new 19th century historical theme park, Freedomland. Anyone who owes Eddie money have been recruited. All races, "even Jews," are forced to be slaves. There's a Whack-a-Mammy, a carousel with watermelon slices to ride, and tons of fresh air.
Tom is also there…because he applied. I know Tom is supposed to be somewhat of an Uncle Tom but seriously? Anyway, as the Freemans grumble and Tom laughs, Uncle Ruckus comes over to orientate them with slavery. He renames Huey and Riley to "Nigga 1 and Nigga 2" and uses a bullwhip to assert his dominance as the overseer. After a long day of shucking, jiving and being water boarded in a box, the Freemans and Tom walk toward the exit. However, this amusement park is very keen on historical accuracy; they aren't allowed to leave.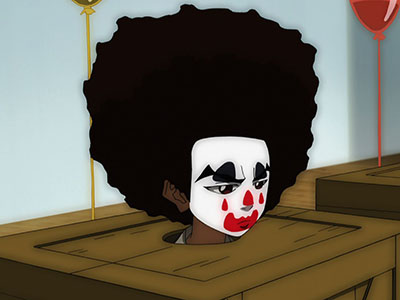 They are truly slaves. People are picking cotton, there's someone locked in stocks, and children tap dancing feverishly. Tom and the Freemans are cleaning their quarters and trying to figure their way out of it. Luckily Sarah buys Tom's freedom, and he is out of there. Uncle Ruckus cannot be pleaded with. This is his one chance to prove that he is a white supremacist to the core. Huey decides that they will have to take their freedom back. That night all of the enslaved gather around campfire and plot their escape. The next morning at the Wuncler plantation, a board meeting is in session. Eddie is pleased to say that Freedomland is a financial success and he's ready to branch out. Eddie mentions to the shareholders that some of the slave "staff" are disgruntled, so he's thought of preemptive settlement to keep them onboard. Huey is brought to Wuncler's office. Even after being offered 40 acres and a mule, Huey will not budge. The enslaved staff is ready to rise up.
Uncle Ruckus has reached the edge of sanity and jumped clear over it. Huey has his hands bound and suspended over his head. Uncle Ruckus is ready to let the crowd have their chance to break him for resisting. Eddie Wuncler Jr. comes in to add even more historical accuracy, with an axe. No really, an axe to chop off Huey's foot. At this point I wanted to throw up. This isn't funny. This is something that really happened and brought up a lot of disgust in me. Luckily Huey leapt up and kicked Eddie in the face. Grandad rushed to the stage, chopped the rope holding Huey and the revolt had begun. Riley rushed to tamper with the pipes, blowing up the staged housing. The revolt was a success. In the end Uncle Ruckus doesn't understand what could be greater than Freedomland, which Huey replies, "freedom."
Now that that's over. This episode was terrible. I was already upset at the fact that although all races were included in Freedomland, only tropes building off of the enslavement of African people were used. "Whack-a-Mammy" has no historical relevance to enslaved white women. The singing of African American spirituals, is not something relevant to the enslaved Asians. the episode is trying to tell us that in modern time all races are equally under oppression but let's be real, that's a lie. I don't know what the few episodes left will bring, but at least it will bring the end.